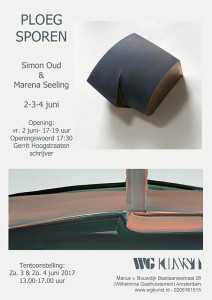 The roads of artists Simon Oud and Marena Seeling cross each other during the short but powerful exhibition Ploeg Sporen. Both have the landscape as a source.
Seeling is especially concerned with the contrast between large spatial surfaces of water and light and the massiveness of new buildings and bridges around her birthplace Weurt, near Nijmegen. In her paintings and wall objects, she filters out unnecessary information and images. This creates spatial compositions in shape and color that have an inner need and tension that can affect you.
Oud in his earlier work studies agricultural structures like beacons in the polder landscape. The closed character of the buildings that contrasts with their vast environment, is a model for its sculptures. Oud confronts in his work form and space. Later, the research shifts more to the connection between the polder and his habitations and shows traces of human intervention in the landscape. The origin of these images is partly determined by the possibilities of the material; in his case it is zinc and brass. The sheet material is constructed into an object in which shape contrasts and light guidance are the visual elements.
Opening Friday 2 June 17.30 by author Gerrit Hoogstraaten. Visiting exhibition 2-3-4 Jun 13.00-17.00 WG Kunst Marius v. Bouwdijk Bastiaansestraat 28 Amsterdam http://www.wgkunst.nl